KB Article: 60224
KB Category: [Products & Services]
KB Sub-category: [Product Specifications]
How do I join and play the FINAL FANTASY XI Free Trial?
You are only eligible to the Free Trial if you don't already possess a FINAL FANTASY®XI account.
To download the game's client and sign up for the Free Trial, please visit the page below and follow the instructions provided: http://www.ff11europe.com/freetrial

After completing your registration, you will receive an email including your Free Trial code.

Please also note that you will need a Square Enix account in order to play FINAL FANTASY®XI.
If you don't possess a Square Enix account, simply click here and follow the instructions provided.

Log in to your Square Enix account and select "Select Service" then choose FINAL FANTASY®XI.
Click on the PlayOnline button and enter your Free Trial registration key. You will be provided with a PlayOnline password and ID. Please write them down carefully as they will be necessary to play FINAL FANTASY®XI.

INSTALLATION
After downloading the Free Trial client, first install the PlayOnline viewer ("PlayOnline setup.exe" in the PlayOnline folder) and then FFXI ("FFXI setup.exe" in the INST1 folder). You can then run either "FINAL FANTASY XI.exe" or "PlayOnline.exe".

Please click on "For PlayOnline members!" once you have started the PlayOnline Viewer and enter your PlayOnline ID and password as well as your Square Enix ID on the following screen.

The FINAL FANTASY®XI Free Trial restrictions are as follows:
- From the moment you enter your free trial registration code, you will be entitled to 3 character slots and 14 days of playing. You will also be marked with a beginner's icon like the one below: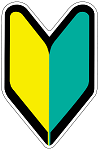 - You will receive a reminder email containing instructions on how to switch to the full game 14 days after acquiring your Free Trial code. Past the 14 days time limit, your Free Trial contract will be terminated and you will have to purchase the full version of the game in order to carry on playing. Please visit the following page for further details: How to switch to the full game

Other in-game restrictions:
- Character's growth limited to lvl 30
- Maximum amount of gil (in-game currency) limited to 100,000
- Auction house restricted to browsing only
- TELL/SHOUT functions disabled (ctrl+r replies enabled)
- FINAL FANTASY XI® 1.0 areas only (original game), all further expansions disabled
- Server transfer disabled
- Post/deliveries disabled (sending/receiving)
- Trading disabled
- Bazaar restricted to browsing only
- Access to "Unity Concord" disabled

Please note that all these restrictions will be removed when purchasing the full game and that you will have the possibility to retain your character's attributes (data will be kept for 90 days after the end of the Free Trial).